C.A.T.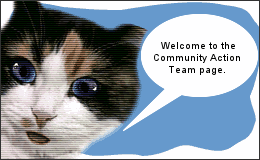 At PSYM, we recruit youth in our community to volunteer for the Community Action Team. Many are participants in our Annual Summer Multi-Sports Camp who volunteer on weekends to join PSYM in various scheduled events taking place throughout the Morehouse parish area.
PSYM has partnered with Morehouse Parish School Board in the past who provided painting supplies for a project which entailed painting elementary school playground equipment. The kids worked hard and had lots of fun in the process. More importantly, they learned the good feeling accomplishment that comes with giving freely of themselves to help others.
As "Action" is our middle name, PSYM Community Action Team is ready to go into action to help our community. With the Great American Cleanup right around the corner, we're calling all volunteers to step up and join us in this very worthwhile event. If you'd like to volunteer for this project or future projects, keep an eye on our events schedule and sign up by clicking here, "volunteer" , to complete a registration form with your contact information. A PSYM representative will contact you with a volunteer opportunity as soon as it becomes available.
PSYM would welcome the opportunity to also partner with other civic, social and religious organizations on various projects for the benefit of our community.