PSYM Feature:
What Makes PSYM Tick? Larry Robinson, PSYM President

From the conception stage of the Pelican State Youth Movement organization, there has been one constant. "Its president, Larry Robinson".
In 2001 when PSYM founder Kenny Natt first envisioned the organization as a means of giving back to his community, Larry Robinson, along with other members of the 1975 State Champion Basketball team, were in the early discussions. Larry was a very willing participant as he himself wanted to give back by doing something constructive to assist the youth of Morehouse parish. The sharp-shooting small forward was very instrumental in the success of the heralded team's 31-1 record which is still a record at Bastrop High School 36 years later. As a mater of fact, Larry was also responsible for the state championship banner which hangs in the new BHS "Sam's Place" gym sponsored by PSYM.
Larry's PSYM motto: "We can't do it all, but we do what we can", will become a permanent mantra of our organization in his honor.
Speaking of honoring. During this year's Pelican State Youth Movement's 8th Annual Multi-Sports Camp, member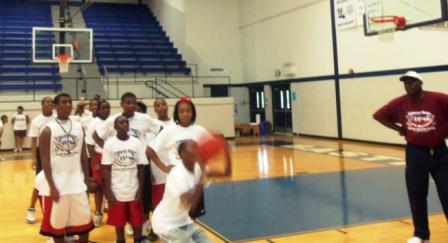 Willie C. Robinson solicited donations and purchased a plaque and card, then presented it to Larry during the final day of camp recognizing him for his many efforts, financial contributions, and un-waivering dedication to our organization. So much dedication in fact, that we must also thank his wife, Janice for tolerating the many hours spent on the computer and phone, paying visits to business merchants, vendors, city council, school board, the homes of campers & volunteers delivering t-shirts and supplies for the camps.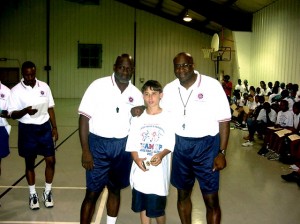 Larry is heavily leaned upon by our organization, and is always there to do whatever needs to be done. I will often call him from NC and ask him to do this or that for the organization. He always responds and gets it done.
When you hear the saying "Don't talk about it….be about it", Larry Robinson is one person to which this saying truly applies.  Larry's enthusiasm and genuine care and concern for the mission of our organization has inspired myself as well as others to carry Kenny's vision to give back to Morehouse parish forward and infect others to do the same.
In behalf of founder, Kenny Natt and the rest of the Pelican State Youth Movement organization, thank you so much, Larry, for all that you do for this organization, our community and the youth of Morehouse parish.
Sincerely,
Karl L. Natt, PSYM Financials Director/Webmaster